Description
2022-12-25
Mandalika International Circuit (known as Pertamina Mandalika International Circuit for commercial purposes) is located in the Mandalika resort area on Lombok Island, part of the West Nusa Tenggara province of Indonesia. The circuit opened by hosting rounds of the Asia Talent Cup and Superbike World Championship in late 2021, followed by Grand Prix motorcycle races in 2022.
The circuit has a length of 4,313 KM with 17 turns. As a purposely-constructed racing track with wide run-off areas, it is claimed to be a street circuit as parts may be used in the future, allowing normal traffic access to new resort facilities.
In-game Name:
Pertamina Mandalika International Circuit v1.2
Features:
3D Start & Pit Lights
3D Grass
Bestline
Groove multiplier
Live Screen
Rain Textures
Working Timing
Working Digital Marshal Flag
v1.2 Changelog
Performance optimization
Changed green surface collision type
2023 Map (Optional)
Updated looks of Pertamina Mandalika Circuit
Though optional, I'd recommend installing this over the base map as it performs better.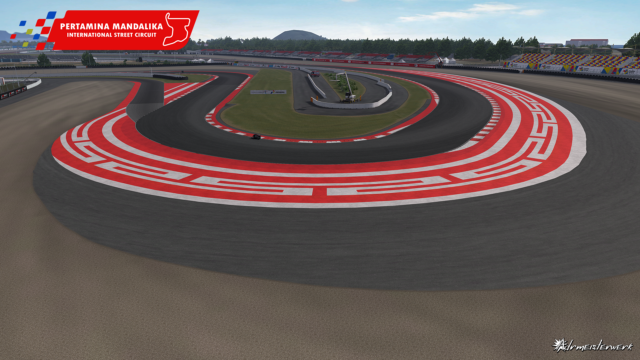 CREDITS
Reinard Abel a.k.a BellReinard – President Tribune 3D at Bukit Jokowi in T1 & other miscellaneous objects
Codemasters – F1 Games Series, for miscellaneous objects
Kunos Simulazioni – Assetto Corsa, for miscellaneous objects
Milestone – MotoGP games series, RIDE game series, for the base Mandalika surfaces and other miscellaneous objects
If you want to support my work, you can visit
If you found a bug or have any suggestions feel free to report them in my Discord!
Visit also,
My official Discord, ADR Master Server
Official Websites, Adrmeisterwerk
Official Youtube Channel, Adrmeisterwerk
Total downloads: 710
Pertamina Mandalika v1.2 - 2023 Map
https://mega.nz/file/fiRX0RLJ#TkT1Lt-3ZWSY92rxQvUT1EOIYo-Kj_QVltnVzjp285A